'Roots' digs into true music's core

By PETER GUINTA
Friday, February 09, 2007
If you once liked American roots music because it spoke to your hard-scrabble heart, but now it all just seems shallow, silly and commercial, you aren't alone.
Monty Dutton, a South Carolina-born writer and guitarist who covers motor sports, feels your distaste for modern radio's "computer generated, market researched, demographically focused, centrally devised and virtually unchangeable" play lists.
He's too much of a gentleman to declare that unilaterally. Well, maybe not. But he makes an airtight case in "True to the Roots: Americana Music Revealed," by the University of Nebraska Press.
He took his time, visiting the dance halls, honky tonks and small town music scenes all over the country, finding and interviewing people who pull music from their guts, from their souls, from real experience.
Most pleasantly, he stopped in St. Augustine and interviewed our favorite sons, Those Guys, who write and play their own songs with the honesty that Dutton seeks.
He met them in Flagler Beach years back and says this; "Every little town in the United States ought to have a band like Those Guys."
Founders Walt Kulwicki and Dave Besley, mix their songs with covers performed far better than the originals. They do love John Prine. But it's their own songs such as "Goose Creek" and "Smile for the Camera" that fans remember. They have seven albums out, including an acoustic one that is quite surprising. Eight should be along any time now.
True To The Roots follows Dutton as he drinks with, plays guitar with or just listens to a super musician or song writer who is not yet become a household name — except for Brad Paisley, perhaps, and Robert Earl Keene Jr.
Dutton casts his net for real (not manufactured) talent that includes master guitar maker Vince Pawless, musicians such as Slaid Cleaves, Bob Livingston, James White, Jeremy Watkins, Brian Burns, Mike McClure, Pat Green, Jack Ingram, Chris Wall, Django Walker, Max Stalling and Ed Burleson of Texas; Carolinians Kenny Roby, Californian Tom Russell, Tennesseans Jesse Lee Jones and Dave Foley; Robbie Fulks of Illinois; and bands such as Reckless Kelly, Stoney LaRue and his Organic Boogie Band and Cross Canadian Ragweed.
He interviews them all, gets to the root of what music is all about. What a job. What a book.
---
CAROLINA VOICES
THE SIMPLE PLEASURES APPEAL TO 'THOSE GUYS'

By Monte Dutton
ST. AUGUSTINE, Fla. – What must it be like to be in a band, man?
Those Guys are cool. I mean, literally. The name of the band is Those Guys, and they've been plying their trade – which is to say, playing their gigs – in Florida since the late 1980s. They haven't ever really made it big – I mean, not yet – but they've made a decent living for themselves and they haven't ever sold their souls.
Dave Besley and Walt Kulwicki are the constants. Others have – and still do – weave their way in and out, but Besley, a fine songwriter, and Kulwicki, a fine guitarist, have played together since Those Guys were, well, those guys.
It's perhaps the sad fate of the bar band that, no matter how good its own songs are – and Those Guys' songs are very good – the biggest roar from the beer-soaked crowd always goes up when they cover someone else's tune. Of course, I've known Those Guys for most of a decade now – I attend their gigs every time NASCAR takes me to the Daytona area – and I much prefer the originals.
"The way we've been playing through the years, it doesn't kill me," said Besley, "but sometimes you don't want to (do other people's songs). The main goal for me at the end of each night is for everybody to leave happy. If that's all it takes, I can spend three minutes doing the song they want to hear."
So the band trots out Buffett and David Allan Coe and the Beatles. It dabbles in Neil Young and John Prine and Merle Haggard. The list is almost endless. It's hard to find a popular artist whose work these (or Those) guys cannot do.
"You make the noise that has to be made," said Kulwicki, whose black Yamaha guitar might as well be a part of his body, so instinctive is his command of it. Hitting a note, to Kulwicki, is akin to me or you hitting a note with our voices.
They're working on a new album. Besley has a studio set up in his home, and there are great new tunes to go along with the band's standards, which, of course, are mainly known to the crowd that hangs out at the regular gigs. At Creekside and the Oasis and the Sunset Grille, they know songs like "Goose Creek" and "Smile for the Camera."
"I hope we get so famous some day that we get tired of doing our own songs," said Besley, eliciting a smile from his partner in music. "What makes me feel good is when we look out there and see people 'mouthing' the words. That makes the whole deal."
---
Groups on track with own albums
By RICK DEYAMPERT Entertainment Writer
News Journal Daytona Beach August i 2003
Some local musicians aren't just busy performing in area clubs — they also are laying down tracks for their own independent CDs. Here's the latest installment in an occasional series that profiles local artists and their musical recordings.
Those Guys, "Electrafied"
Vital stats: This St. Augustine-based rock band includes main songwriter Dave Besley on guitar, mandolin, bass and vocals; Walt Kulwicki on guitar and vocals; Danny Roberts on guitar, bass and vocals, and Woody Pernell on drums. The band formed in 1992 in Jacksonville Beach, and now plays about 300 performances a year, including occasional gigs in the Daytona Beach area.
Former Lynyrd Skynyrd drummer Artimus Pyle and former Molly Hatchet bass player Banner Thomas have logged stints with Those Guys.
The music: "Electrafied," the band's fourth CD, is a live set that flexes plenty of classic-rock smarts. "Don't Ever Let It Get You Down" boasts Doobie Brothers-like harmonies and muscular guitars, while "Then and Now" is a Doobies-style shuffle. "All Night Survivor" is a pub-crawlin', hell-raising anthem that deploys Creedence Clearwater Revival-like guitars while Besley sings, "There ain't no place I ain't been. I'm an all-night survivor of the getting-high revival. I'm the undisputed king, I'll try anything."
"Cuervo Serenade" is twangy country rock enlivened by tongue-in-cheek lyrics that recall Dr. Hook: "If I ever leave you sad and lonely, you can kiss my sorry (rear) goodbye."
Raucous covers of the Beatles' "Helter Skelter" and "Come Together" and Led Zeppelin's "What Is and What Should Never Be" are balanced by a couple of melancholy ballads, "Dance With Me" and "Missin' You."
"Electrafied" is available at the band's Web site, www.thoseguys.com.
---
Perspective: Check out the summer beach concerts

By PETER GUINTA Senior Writer, St. Augustine Record Saturday, August 09, 2003 at 12:24 AM EDT
Relaxing at the Pier Park Pavilion on July 9, I decided that the first concert of St. Augustine Beach's summer series was a spectacular success.
My beach chair was comfortable, the weather breezy and balmy off an azure sea.
A cold soft drink was at hand and Henry, my Boston terrier, was by my side. All was right with the world.
First Coast Opera set a classy opening standard, performing selections from well-known musicals and operas.
Henry sniffed around, then laid down. But when one opera singer began a particularly difficult aria, Henry got up without my noticing, ambled over to the stage and — let me say this delicately — marked his territory along a wall.
I spotted him mid-stream.
There were snickers (and a few raised eyebrows) from spectators who also saw Henry's faux pax. I got up and quickly collared the little embarrassment, firmly tying his leash to my beach chair, shrugging to my neighbors and saying to no one in particular, "He's a music critic."
That was the only glitch in an otherwise sparkling two hours of excellent music. The fellow who performed "Old Man River" did it dead-on wonderfully. What a wonderful song that is. There were duets, beautifully sung. The evening ended with an achingly beautiful rendition of "Blue Moon," another classic.
You didn't have to be a fan of opera to enjoy the choices that evening. I came away with a new desire to see First Coast Opera perform — though I'll leave Henry home next time.
I missed the next two concerts: Greg Baril on July 16 and Mark Hart on July 23. But we did catch the Jim Essery Blues Band on July 30. Again, another fine evening. This time the place rocked. (No problem with Henry this time, except for his flirting with a cute poodle behind me.)
These free beach concerts are presented by St. Augustine Beach Civic Association every Wednesday evening from 7 p.m. to 9 p.m.
This week's featured artist was Elizabeth Roth, a staple around St. Augustine. She has a voice like no other and a huge number of songs in her memory. Assigned to write a profile about Roth a couple of years ago, I went to one of her performances and was blown away.
Coming up Aug. 13 are the Gumbo Chiefs; Aug. 20 features Elwood St. Johns; and Aug. 27 has Those Guys.
I don't know the first two, but if the quality of past performers is any indication, they've got to be good. However, if you can only make one of the three concerts left, make it Those Guys. They are rocking locals, but they can also do John Prine as good as the old man himself. They have at least five CDs released, and I predict they'll be on the charts eventually.
Each Wednesday, a different restaurant provides food. Aug. 13, for example, will offer Papa John's Pizza, Aug. 20, Oasis Restaurant, and Aug. 27, Sunset Grille.
But don't wait too long to get the chow. Both times, the food sold out in the first hour.
Some tips for the concerts:
Arrive a little early. Parking is easier and you can walk on the pier (50 cents) or sand while you wait for the music. The parking lot's big, but it does fill up.
Bring chairs and drinks, and a hat if you burn easily. The sun is still pretty high and warm at 7 p.m.
Sit beside the wooden sidewalk (on the beach side of the gazebo) if you don't want to be under the gazebo roof. I saw a few people listening from the pier.
It's worth it to stay to the end. The musicians sometimes rock out even harder then (like the Essery band) or stay to play extra songs. But it's also nice to walk on the beach in the evening while the traffic clears.
---
Another February, another visit with Those Guys
By Monte Dutton
Monte Dutton covers NASCAR and other sports for The Gazette. He can be reached by e-mail at Tug50@aol.com.
ST. AUGUSTINE, Fla. — We never got to midnight at the Oasis, which means we didn't get to "lay your camel to bed" (in the words of the old song), but we did uphold the rich tradition of hanging out with Those Guys.
The Oasis is a restaurant near the beach in St. Augustine. Those Guys is a band whose members include my friends Dave Besley and Walt Kulwicki. Dropping in on them is a habit born some years ago on a rainy Tuesday night in a little beachfront seafood joint called High Tides, just south of Flagler Beach.
After a day spent out front of Daytona International Speedway in a huge tent — in NASCAR-speak, they are referred to as "hospitality chalets" — three of us headed up to St. Augustine for an evening of revelry.
Our arrival — it was me, Mike Owens and Jim McLaurin — was unannounced, but it was no surprise. We always show up in February and July, when the NASCAR circuit visits Daytona.
"Well, look who's here," said Kulwicki. "I mean … it's February, isn't it? "
The number of Those Guys varies. On this night, there were four: guitarist Kulwicki, lead singer Besley, bassist Chris McVey and drummer Woody Pernell. Sometimes Besley and Kulwicki play acoustic gigs. In fact, the reason I know those two the best is that they were the only guys present the first time I saw them.
It's hard to categorize Those Guys. According to their Web site (www.thoseguys.com, predictably), it's "a unique mix of music that's best described as Americana and roots with a touch of rock, folk and country."
The best part of watching Those Guys perform is the interaction with the crowd. On a whim or in response to a request, they may do anything from John Prine's "Sam Stone" (one of the saddest songs ever written) to the song co-written by Prine and Steve Goodman (and most famously covered by David Allan Coe) called "You Never Even Called Me by My Name." To say the least, the latter song, which has the famous "perfect country song" ending, is quite a bit less sad than "Sam Stone."
Offhand remarks from the crowd may draw incredible responses. The band will try almost anything. On our most recent visit, everyone got all sentimental about the impending war in Iraq, and the band broke out into a lovely treatment of the national anthem. It stirred me more than anything I ever heard from Whitney Houston, Bono or Celine Dion.
From Buddy Holly to the Traveling Wilburys, they've got something stored away from everybody, and if they don't, they're not averse to exploring new musical ground.
Besley, by the way, is a great songwriter. From the whimsical ("It's a Great Life If'n You Don't Weaken") to the inspirational ("Smile for the Camera") to the historical ("Southern Cross"), the band's original songs are all too often lost amidst the crowd-pleasing covers of Prine, Stevie Ray Vaughn and Lynyrd Skynyrd.
Kulwicki is a world-class guitarist. Over the years, his electrified acoustic has gradually become an extension of his body. He has a relaxed, disarming style and frequently launches little asides (often involving various incarnations of "The Beverly Hillbillies" theme song) between numbers.
Over the years, Those Guys have opened for or played with the likes of Little Feat, Molly Hatchet, .38 Special, the Allman Brothers Band, Bo Diddley, Jerry Lee Lewis and Skynyrd.
They're the best band you've never heard of, and, sadly, with a few exceptions, you're going to have to travel to Florida to see them.
---
First Coast Entertainer
"Electrafied"
Those Guys CD Release Party at Sunset Grille

August 3, 2002 • By Carol Elliott
Those Guys have been playing St. Augustine gigs like the Oasis, Tradewinds, Sunset Grille and Creekside Dinery since they became a band a few years back. Five CDs later, Those Guys Electrified Live at L and M, a bar in Cedar Key, is their best work yet. Listen for a few surprises such as a few bars from the Girl from Ipanema and Dave quoting Ringo Starr.
Dave Besley's voice has never been so tuned and refined – not bad for a country boy – as it is on the CD. Vocal harmony is great. Repeat chords will fascinate you.
The mix is outstanding, thanks to Jim Stafford from Eclipse Recording Studio in St. Augustine who took the mobile unit to Cedar Key to record Those Guys live in the middle of January.
Dave Besley and Walt Kulwicki co-write their songs. You'll hear favorites recorded on previous CDs like "Missin' You" and "Fernando". Chris McVey is back with Those Guys adding guitar and vocals. Drummer Woody Pernell makes up the quartet.
There are also covers on this CD. You'll want to hold your sweetie tight when listening to Those Guys' interpretation of "Whiter Shade of Pale" by Reid/Brooker (Procol Harum) and then rock a lot with "I Know A Little" attributed to Steve Gaines (Lynyrd Skynyrd). You won't sit this one out, "oh, yeah!" Rock n roll and pay attention to the guitars going wild towards the end.
Those Guys do two Beatles (Harrison/Lennon/McCartney) songs back to back. "Taxman/Come Together" brings light rock dancing to the floor in the best of Besley/Kulwicki/McVey. I was caught in the middle – not a bad place to be – listening to "come together right now over me." Vocal harmony is outstanding, slide guitar is awesome, percussion is definitely worth mentioning and drums should be noted here as well.
Lennon & McCartney's "Helter Skelter" is the last song on the CD with their own hard rock version that makes you beg for more.
Those Guys songs tell stories. Never at a loss for words, Besley makes this comment about their song "Cuervo Serenade". "It doesn't say anything about Cuervo in it buy Cuervo had a whole lot to do about writing it." Besley has never been more expressive in his vocals than in this number.
"Come on Walt, I'm sad." Walt Kulwicki makes that guitar cry, before he reverts back to chords, soft and steady, then picks up the tempo. There is a lot more vocal harmony on this CD. Dave, Walt and Chris chime in and it's a great addition to the song. The fact they were recorded live, you can hear the applause and cheers from the crowd. "The crowd definitely drive me," says Kulwicki. "I'd rather play for 20 people who care than 20,000 that don't."
Kulwicki, a founding member of Those Guys, especially enjoys harmonizing during the band's performances. "I like the way we play as a duo acoustic, as a trio, and as a quartet acoustic, but also electric too," he said. "It's like playing in two or three different bands."
Drummer Woody Pernell really gets it going in "Salisbury Hill" which is dedicated to Walt's wife Jill. Chris McVey actually croons in "What is and What Should Never Be."
I have every one of their CDs because I love Those Guys. Their music is honest and makes me feel alive.
I do want to make a comparison between "Missin' You" acoustic compared to electric. Electric is dreamier, not as much guitar lead in. Dave, on vocals, is more expressive, going right for the punch line, after a few short introductory bars. The instrumental part comes after that with more rhythm guitar than the acoustic version.
Dave gets to play mandolin in "Fernando." They're not a "hey, hey" band, according to Dave, but in "Fernando" they make an exception. This on is sheer fun with a south of the border beat and the guys shouting "Hey."
Party down with the music of Those Guys at L and M in Cedar Key August 2 and 3. They will be at the Sunset Grille in St. Augustine Beach on Sunday, August 4 from 3 p.m. to 7 p.m. You passed the audition, guys! Check their website at www.thoseguys.com.
---
Local band, 'Those Guys,' release fifth CD
By PETER GUINTA
Senior Writer

Those Guys are a hard-rocking St. Augustine-based bar band with a blistering lead guitar, dozens of original songs, a trio of strong voices and probably 100 years of combined touring experience.
They're household words in St. Aug and dozens of other venues in the South, but the band hasn't yet hit the charts.
That may change.
This weekend, Those Guys release their fifth compact disc, "Electrafied," a live album of seven original and seven cover songs.
Lead guitarist Walt Kulwicki says the album name is a tribute to the Electraglide, a big Harley-Davidson motorcycle ridden by many of their fans.
"This album is an eclectic mix," Kulwicki said. "It was recorded at the L&M Bar in Cedar Key over two days. That bar has turned into a little blues hot spot on the West Coast and seemed the perfect place."
Accordingly, their album release party will be held at L&M on Saturday, from 10 p.m. to 2 p.m.
But folks in St. Augustine will also be able to party with the boys at their second release party, set from 3-7 p.m. Sunday, at Sunset Grille on St. Augustine Beach, their musical home for 11 years.
"(Bass guitarist and vocalist) Dave Besley has been writing up a storm," Kulwicki said. "And we sometimes have guest musicians join us at the Sunset Grille."
Kulwicki and guitarist Chris McVey formed Those Guys on Labor Day, 1991, after a few drinks at a Jacksonville Beach bar. Within a week, they'd met Besley and played Mill Top Tavern and Sunset Grille.
Woody Parnell joined the group recently as drummer to replace John McGee, who left two years ago to do more studio work.
Drummer Artemis Pyle, formerly of Lynyrd Skynyrd, was drummer for Those Guys for a while.
Co-founder McVey left the band for years and was replaced by bassist Banner Thomas, formerly of the Jacksonville-based blues-boogie-metal band Molly Hatchett. He's now with "Big Engine" in Jacksonville.
McVey returned not long ago, adding his writing skills to Besleys means that now the band has more than 500 songs in its repertoire, and a new take on every one.
"We never play the same song twice the same way," Kulwicki said.
Their first album, "Those Guys," was cut in 1995. "Those Guys II" in 1998, and "Those Guys Live at the Sunset Grille" in January 2000.
"Those Guys III: Smile For The Camera" was out in March 2000.
With "Electrafied," they've created a mixed bag — originals and spot-on covers.
Originals include "Cuervo Serenade," a love song somewhat like Elvis Costello singing country, "Smile For The Camera," a reprise of the third album's cover song and "Don't Ever Let It Get You Down," a bluesy anthem for anyone who has ever lost a loved one. "Dance With Me" and "Fernando" you've heard before, probably on 88.5 FM, WFCF radio.
"All Night Survivor" may be the one going farthest. It's a kicking rock song and, if it doesn't make the charts, it will be covered by other bands eventually.
Also on the disc are "A Whiter Shade of Pale," the 1967 smash by Procol Harem — "a combination of mystical lyrics, a somber tempo and an organ line lifted directly from Bach's Suite No. 3 in D Major," according to Rolling Stone.
The "Taxman" and "Come Together" medley — by John Lennon and Paul McCartney, of course — are good as the originals, maybe better. And the raucous "Helter Skelter" is there too, with the tough but precise job of singing done by McVey.
Jim Stafford, of Eclipse Recording Studios, St. Augustine, recorded, engineered and mastered the disc this week.
"Those Guys generate quite a bit of sales because they've recorded so much," Stafford said. "Most artists don't have the confidence to do a live CD. This is their second. That says a lot about the quality of their live performances."
Stafford said many musicians rely on the magic of the studio.
"Not Those Guys. The crowd's energy really propels the group," he said.
After this album is released and selling, the group will either release a second live CD from the massive amount of material they recorded from this one, or they'll finish an album of all-original tunes they've already got half-done.
Kulwicki said one thing they'll continue to do is write songs.
"If we wrote a hit song for somebody else, that would also be successful for us too," he said.
---
Carolina VoicesGastonGazette.com • 2/20/01
It took a while but we finally got it right 
ST. AUGUSTINE, Fla. — Sometimes, on the road, things get complicated. On the night of Feb. 1, two friends and I drove to Flagler Beach, Fla., to see Those Guys, a popular local band that was scheduled to be playing in a nightspot known as Caribbean Sin. Among the first things we noticed as we were being seated was that our friends Dave Besley and Walt Kulwicki did not seem to be the two men playing guitars on stage. When the waitress brought us our menus, I asked, "Where are Those Guys?" "On the bandstand," she said, checking my eyes for signs of blindness. "No, no," I said, realizing her confusion. "The band Those Guys. Those guys on the stage are not the band Those Guys." "Hold on," she said. "Be right back." Down a hallway, at the door to the kitchen, I could see the waitress discussing something with her manager. "Those Guys," she said, "are waiting for you in the gazebo out front." "The band Those Guys?" "Yes." Sure enough, they were. What had happened was that the band had showed up at Caribbean Sin only to discover that the manager had booked two groups for the night. The band paid Those Guys a partial stipend not to play, but Walt Kulwicki, the lead guitarist, knew I had been planning to be there, so they waited out front to explain. Somehow, though, we had slipped through the side door without being noticed. The next two hours, in which we traded sportswriters' stories for band members' stories, may have been more enjoyable than it would have been actually to see the band perform. Dave told a story about a big Indian in Wyoming or somewhere thereabouts (New Mexico, Idaho, Cramerton) who wanted to whip his tail one time when he was playing in a country-and-western band. Jimmy Mac, my sportswriting friend, told that old standard about how his boyhood friend, Tootie Boy, tried to pay him (Jimmy Mac) to shoot him (Tootie Boy) one time back home in Clio, S.C. We all laughed and vowed to get back together sometime, then we made our lonely ways back home, vowing to return to see Those Guys again before Daytona Speedweeks was over. So we did, only this time we had to drive 30 miles farther up the coast to St. Augustine, where Those Guys would actually be playing, not talking about playing, at a restaurant in town. So, on Thursday night, after the rigors of covering the Gatorade Twin 125s, back up I-95 we went, this time without Jimmy Mac. We picked up another colleague, though, and arrived in St. Augustine having no idea where we were going.I knew the restaurant had the word "creek" in the title: Creekside, Creekfront, Cripple Creek, Goose Creek (Ironically, "Goose Creek" is one of Those Guys' signature songs) or something. We rode up and down Highway A-1-A and drove right by two restaurant/bars, Oasis and Sunset Grille, where we had seen the band in the past. Finally, we stopped in a convenience store and asked the guy behind the counter, who was miraculously not from Bangladesh, if he had ever heard of a restaurant named "Creek-something." Not as miraculously, he hadn't. He did have a phone book, though, and eventually we discovered that St. Augustine — not St. Augustine Beach — did have an establishment known as the Creekside Inn. After a quick cell-phone call, we were en route in no time. It was all well worth the wait. We happened upon the Creekside Inn's outside music deck for perhaps the year's first truly authentic version of the Florida "starry, starry night," with temperatures in the 70s and a cool beach breeze wafting through the trees above. The place was fairly crowded when we arrived — Dave and Walt waved as we walked in — but after the band's final break, most of the spectators cleared out. About all that were left were three sportswriters, two from the Carolinas and one from Tennessee, and two couples who had attended Flagler College 12 years earlier and seen Those Guys in its infancy. They sang their own songs — my first request was the aforementioned "Goose Creek" — and covered two others by Townes Van Zandt, partly because Dave and Walt knew what a fan I was of the late Texas troubadour.Service after the sale, I guess. If you'd like to hear more about Those Guys and their music, go to the band's Web site at www.thoseguys.com. Monte Dutton covers NASCAR and other sports for The Gazette. He can be reached via e-mail at: Tug50@aol.com.
---
Florida SIDS Alliance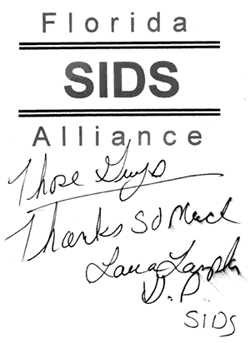 Help fight the number one cause of infant death in the United States…
Toll Free 1-800-SIDS-FLA • Florida SIDS Alliance
PO Box 17561 • West Palm Beach, FL  33416

---
Best *LIVE* Performance in 2000The Zydeco Show! WFCF 88.5 FM
Hi Everyone!
Hope you all had a great New Year. We would like to announce our winner of the best *LIVE* performance on the show in the year 2000: The winner is: ( THOSE GUYS! ). Congratulation guys for a job well done on the show!. For all of you that have not heard Those Guys please check out their webpage for concert information & ordering cd's at ( www.thoseguys.com ). They will have a *NEW* studio cd & *new* live cd out very soon. We hope to have them on the show in 2001 when the *NEW* cd's are released. They have 2 cd's out now that are a must have in your collection!. Those Guys also have a *NEW* recording studio open called ( Eclipes Studios ) if you would like to record a cd. They do it all right there. Please contact the guys for more infomation on the recording studio at: theband@thoseguys.com.
Well talk to you all soon,Rob & Rebekah
((( The Zydeco Show ! ))) on:WFCF 88.5FM
thezydecoshow@yahoo.com
http://members.truepath.com/djrob/thezydecoshow.html
((( FAX OR VOICEMAIL: 209-231-7205 )))
The only show of it's kind in North Florida!
---
Those Guys IITampazine Magazine • Dec. 8, 1999
Those Guys definitely know what's up. This southern rock band, from St. Augustine Florida, jams with there latest release, adamantly titled II. The album is nourished with mellow harmonies and downright awesome guitar work. The guitar solo by Walt Kulwicki on "Fernando" is just about the best I have ever heard on acoustic guitar. While this album is mainly southern rock, the guys also have tracks that are hillbilly and calypso. And of course, they don't leave out the mellow tunes you can dance with your cowgirl to. Check Those Guys out on Last Resort Records.
-by Mike Costello
Tampazine
By PETER GUINTA • Staff WriterSt. Augustine Record • 10/23/00
---
Those Guys II — CD #2 Review

August 14, 1999 • By Carol Elliott
Those Guys, Dave Besley, Walt Kulwicki, and Shelton Irwin, and company have put together yet another winning CD called Those Guys II. Dave is on guitar, bass and mandolin; Walt and Shelton play guitar and all three contribute vocals. Michael Howard adds even more guitar and vocals and Chris McVey plays bass. John McGee is the power behind drums and percussion.
Those Guys are a St. Augustine based band with gigs to the south at the L&M bar in Cedar Key and north to the Wind Rose Cafe in Tybee Island, GA. They also play in St. Augustine, places like Oasis, Sunset Grille, Scarlett O'Haras and at Monkey's Uncle in Jacksonville Beach. The boys play a mix of Southern rock, blues, country and even a little island music from the 70s, 80s and 90s.
They have jammed with Artimus Pyle as well as Bo Diddley, Charlie Hargrett and Dave Hlubek. You will hear them play the music of Lynyrd Skynyrd and Little Feat. The boys did a pop rock show in St. Augustine Beach a few years back with .38 Special. You can also hear them at festivals.
The opening number, Dark Haired Lady, comes out strong and powerful using those guitars to their full potential. Dance With Me starts out soft and melodious as a high string solo accompanied by bass, then swings into full strum and beat accompanied by two part harmony and returns to a soft finish.
The ballad, Ain't Life a Mess, offers exciting shifts in tempo with baritone/alto background for contrast. The tune is one of those that stays with you. Fernando is pure fun. Instrumental pitch is above middle C, using mandolin and percussion creating island music that ends with a shout "Hey!". When I Fall has a slow and steady bass with "I Fall Forever" repeat refrain.
Those Guys rock with Me & My Guitar. The guitar vibrates in a power packed solo. The music keeps going with traveling music "…in my shiny Texas Cadillac". Raised in the City has a touch of country with a catchy instrumental repeat refrain and a song to slow dance by.
Do What You Think Is Right has great vocal harmony with an octave stretch. It's a cruising song that keeps a steady beat. It suggests wide open country with harmonica and easy-going "Black Hills of Dakota" lyrics go alongside clear notes. I Want To Stay Here follows with soprano melody on harmonica.
Making headway and traveling at a good clip down the highway in the final song Change Is On The Way with awesome finger pickin' guitar solo and cymbal/percussion ending.
Check out their web site at www.thoseguys.com and The First Coast Entertainer for their band schedule.
---
Those Guys — CD #1 Review

 

Jam Magazine • June 5-18, 1998

"Here is a record that could hold it's own against the resources of any major brand label record in it's category. Those Guys works up from a country foundation and decorates its evolution with shades of rock and soul roots. The elements of country eliminated are of the annoying shooting gallery, beer swilling variety.
The best and the worst of the album is demonstrated by the "Missin You" track. The melancholy number recalls the ballads of hurt that made the late 70s music scene valuable. It could easily become a crossover radio staple given the right push. The downside is that at 2:48, it's a bit short for a song with this much emotion.
Overall, it's a record that appeals to a lot of people. Even the hardest of the hard to please just might find something to like about Those Guys."
Contact: Those Guys

P.O. Box 840111

St. Augustine, Florida 32084
-Adrian Gregory Glover
Jam
Florida's Music Magazine
North/Central Edition