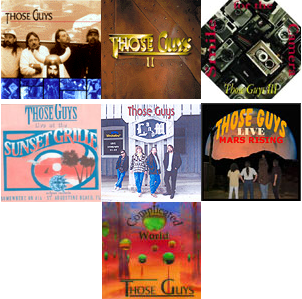 Those Guys 25th Anniversary shirts SOLD OUT!
Ladies V-neck in Black/Chrome or White/Black logo or Black/Pink logo
     
We also have Men's  Short & Long Sleeve shirts in Sportek or cotton pocket tees in stock!
Purchase online or at the gigs! We can take cash or plastic at the gigs….
Those Guys Hats
Black with Silver logo or Pink with Black logo
IN STOCK NOW!
$25 ea



Sportek Golf Shirts
$35 including S&H. Custom order ONLY! Many color combinations available! Email: Walt@thoseguys.com
Embroidered Golf Shirts
$35 You may add their name for free. These are all made-to-order and allow extra time; USPS Priority shipping is $4.95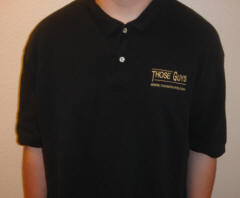 Men's Pocket Tees (non-anniversary) are on CLOSE OUT while they last!!!
Black w/white, short sleeve  printed front and back – $10 ea & Sportek (SS) in gray/black for $15
USPS Priority shipping is $4.95
Ladies Tanks (non-anniversary) SOLD OUT
Black w/Pink, also a few White/Blk and White/Pink
USPS Priority shipping is $4.95

Those Guys Jewelry
GO TO: www.etsy.com/shop/staugustrings